Rogue Legacy 2 (2020) is a genealogical rogue-LITE. That means it has all the trappings of a typical rogue-like (randomized runs, changing characters, and more), but with persistent upgrades, and persistent dead heirs.
File №1. Game version: 0.7.1. +2 options by Abolfazl.k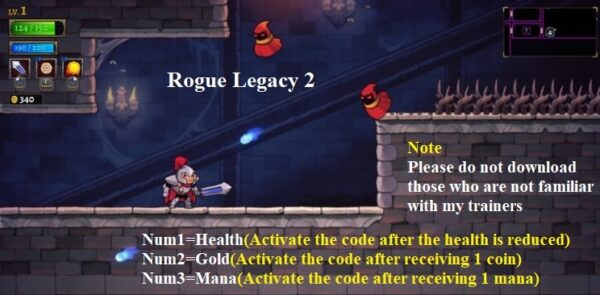 Options:
Numpad 1 – Infinite Health
Numpad 2 – Infinite Gold
Numpad 2 – Infinite Mana
Notes:
1) First get damage the activate heath option.
2) First receive gold/mana then use appropriate option.
---
File №2. Game version: 0.2.2 + The Fall Cleanup. Cheat Engine Table +12 options by astor
Available Options:
[x] Infinite Health
[x] Infinite Mana
[x] Maximum Critical Damage
[x] No Stun and Knockback
[x] Infinite Gold
[x] Change Attack Damage
[x] Change Strenght
[x] Change Intelligence
[x] Change Dexterity
[x] Change Focus
[x] Infinite Jumps
[x] Super Height Jump
– Download
---
Here you can find trainer for PC game Rogue Legacy 2 version 0.7.1 + The Fall Cleanup. Currently we have free files from Abolfazl.k and astor.