Rogue Legacy 2 (2020) is a genealogical rogue-LITE. That means it has all the trappings of a typical rogue-like (randomized runs, changing characters, and more), but with persistent upgrades, and persistent dead heirs.
File №1. Game version: 1.2.2+. +8 options by MrAntiFun
Functions:
F1 – Infinite Health
F2 – Infinite Mana
F3 – Invincible
F4 – Infinite Jumps
F5 – One-Hit Kills
F6 – Infinite Coins
F7 – Infinite Equipment Ore
F8 – Infinite Rune Ore
– Download
---
File №2. Game version: 0.8.0. +2 options by Abolfazl.k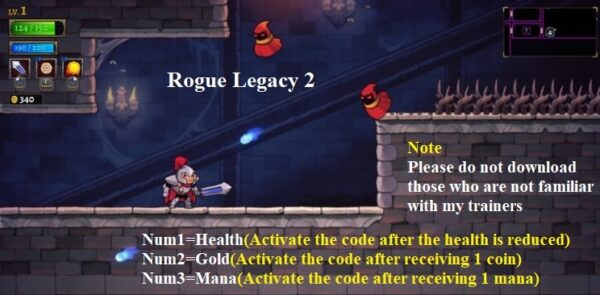 Options:
Numpad 1 – Infinite Health
Numpad 2 – Infinite Gold
Numpad 2 – Infinite Mana
Notes:
1) First get damage the activate heath option.
2) First receive gold/mana then use appropriate option.
---
File №3. Game version: 1.1.1 Full Release. Cheat Engine Table +9 options by ColonelRVH
Available Options:
[x] Get Resources Base Address [Update: Get Coins]
[x] 20+ Pointers
[x] Get Character Stats Base Address [Update: Return to Game]
[x] 60+ Pointers
[x] God Mode
[x] Invincibility
[x] Unlimited Mana [Update: Spent Mana Successfully]
[x] Force Pause (Toggle: Pause Break)
[x] Speedhack (Ctrl+/Ctrl-)
– Download
---
Here you can find trainer for PC game Rogue Legacy 2 version 1.2.2 Full Release 2023. Currently we have free files from MrAntiFun, Abolfazl.k and ColonelRVH.