Sea of Stars (2023) is a turn-based RPG inspired by the classics. It tells the story of two Children of the Solstice who will combine the powers of the sun and moon to perform Eclipse Magic, the only force capable of fending off the monstrous creations of the evil alchemist known as The Fleshmancer.
File №1. Game version: 1.0.46074. +16 options by ColonelRVH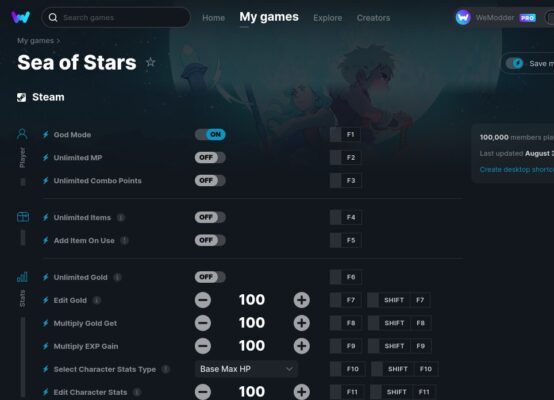 Features:
F1 – God Mode
F2 – Unlimited MP
F3 – Unlimited Combo Points
F4 – Unlimited Items
F5 – Add Item On Use
F6 – Unlimited Gold
F7 – Edit Gold
F8 – Multiply Gold Get
F9 – Multiply EXP Gain
F10 – Select Character Stats Type
F11 – Edit Character Stats
Ctrl+F1 – Quick Kill
Ctrl+F2 – Fishing Line Never Break
Ctrl+F3 – Ignore Cooking Ingredients Requirement
Ctrl+F4 – Unlimited Cooking Capacity
Ctrl+F5 – Game Speed
– Download
---
File №2. Game version: 1.0.46047. +6 options by Abolfazl,K
Available Options:
Numpad 1 – Infinite Health Team
Numpad 2 – Infinite Mana Team
Numpad 3 – Maximum MP Team
Numpad 4 – Maximum Combo
Numpad 5 – Infinite Gold
Numpad 6 – One Hit Kills
– Download
---
Here you can find Sea of Stars Trainer for the latest game version (1.0.46074). Currently we have free cheats from ColonelRVH and Abolfazl,K.