PayDay 2 (2020) is an action-packed, four-player co-op shooter that once again lets gamers don the masks of the original PAYDAY crew – Dallas, Hoxton, Wolf and Chains – as they descend on Washington DC for an epic crime spree. Up to four friends co-operate on the hits, and as the crew progresses the jobs become bigger, better and more rewarding. Along with earning more money and becoming a legendary criminal comes a character customization and crafting system that lets crews build and customize their own guns and gear.
File №1. Game version: 1.143.228. P3DHack Free 3.00 by P3DTeam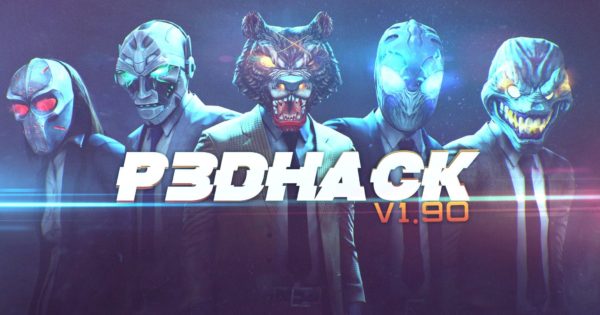 Functions:
F1 – Player Menu
F2 – Weapon Menu
F3 – Stealth Menu
F4 – Mission Manipulator Menu
F5 – Inventory Menu
F6 – Money Menu
F7 – Interaction Timer Menu
F8 – Troll Menu
F10 – Disable Hud
F11 – Help Menu
Num + – Spawn Menu
Your Key – Custom API
Z – Ammo and Health Refill
X – X-Ray Vision Toggle
C – Ammo Refill
V – Spawn car
Insert – Locator
Home – Aim Bot
Delete – Slow Motion
End – NoClip
Mouse 2 (Wheel button click / Middle button) – Teleport
Num / – Restart Job
Num * – Kill All
Num – – Public X-Ray
Num . – Pager Answer
\ – Gage Pack
/ – Revive Team
– – Push Stack Up
= – Push Stack Down
Backspace – Push Stack
B – Spawn Grenade
How to use:
1. First of all, be sure to install the 2017 Visual C ++ Runtime otherwise the game will crash on startup.
2. Delete mods folder and IPHLPAPI.dll
3. Download and unzip archive
4. Copy WSOCK32.dll and mods in the PAYDAY 2 Game Directory, removing old mods folder and IPHLPAPI.dll
5. Run Payday 2 and go to P3DHack Menu – P3DHack Config for changing the language or settings of SuperP3DHack Premium
6. In main menu, press F11 to find out all KeyBinds and get answers to basic questions.
– Download
---
Here you can find PayDay 2 Trainer for the latest game version (1.143.228). Currently we have free cheats from P3DTeam.