Football Manager 2024 (2023) is a new game in popular serios of sport management games. Build a world-class team ready to dominate your rivals in football's most prestigious competitions. Progress never stops when you're pursuing footballing greatness.
File №1. Game version: 24.2. +7 options by CheatHappens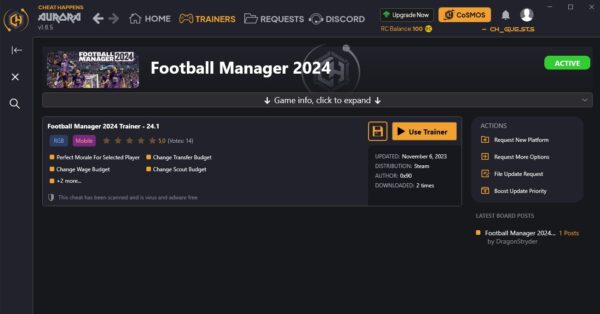 List of Options:
Num 1: Perfect Morale For Selected Player
Num 2: Change Transfer Budget
Num 3: Change Wage Budget
Num 4: Change Scout Budget
Editor Options:
Set Transfer Budget
Set Wage Budget
Set Scout Budget
-> Download (132.3 Kb)
Unlock all functions and get full Trainer you can here 👉 Football Manager 2024 Trainer.
---
File №2. CE Table +15 by tdg6661. Game version: 1.0.
Features:
[x] – Award Editor.
[x] – Club Editor.
[x] – Competition Editor.
[x] – Continent Editor.
[x] – Nation Editor.
[x] – Person (Player / Staff / Manager) Editor.
[x] – Stadium Editor.
[x] – Advanced Rules Editor.
[x] – Work Permit Rules Editor.
[x] – Unlockables (from FM Touch) for manager.
[x] – All Players Interested.
[x] – Unlimited Scouting.
[x] – Attribute Masking.
[x] – That Job Is Mine.
[x] – Mass edit.
[x] – Legend Players clone preset.
– Download
–
You don't know how to use .CT files? Check our tutorial
>>>HERE!<<<
–
---
Here you can find files for the latest game version (24.2). Currently we have free trainer from CheatHappens and cheat engine table by tdg6661.