Monster Hunter Rise (2021) is an action role-playing game developed and published by Capcom. In Kamura Village, the player-character is informed they have been promoted to a Hunter by the Guild by the Wyverian twins Hinoa and Minoto. They escort the new Hunter to the village leader Fugen, though along the way, the Hunter catches sight of an unknown flying monster far in the distance.
File №1. Game version: 16.0.1.1+. +14 options by FLiNG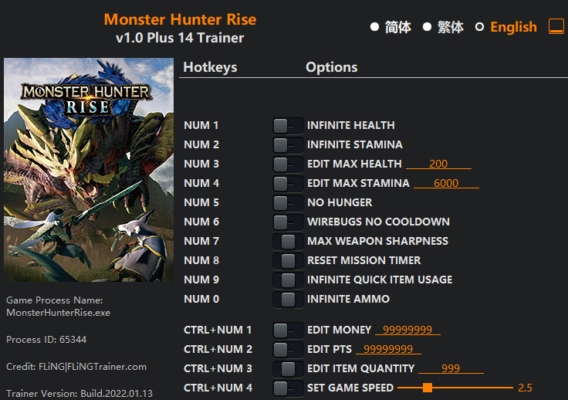 Features:
Num 1 – Unlimited Health
Num 2 – Unlimited Stamina
Num 3 – Set Maximum Health
Num 4 – Set Maximum Stamina
Num 5 – No Hunger
Num 6 – Wirebugs No Cooldown
Num 7 – Maximum Weapon Sharpness
Num 8 – Reset Mission Timer
Num 9 – Unlimited Quick Item Usage
Num 0 – Unlimited Ammo
Ctrl+Num 1 – Set Money
Ctrl+Num 2 – Set Pts
Ctrl+Num 3 – Set Item Quantity
Ctrl+Num 4 – Change Game Speed
– Download
---
File №2. CE Table +6 by ndck76. Game version: 1.1.1+.
Options:
[x] – Unlimited Stamina
[x] – Fast Bow Charge
[x] – Maximum/Infinite Items and Ammo (Pouch and Item Box)
[x] – Unlimited Loaded Ammo/Coating
[x] – Maximum Zenny
[x] – Maximum Guild Points
– Download
–
You don't know how to use .CT files? Check our tutorial
>>>HERE!<<<
–
---
At the moment you can download cheat engine table for latest PC game version (16.0.1.1) created by ndck76. Trainer for Monster Hunter Rise by FLiNG already available! Keep for updates.