Minecraft (2020) is a sandbox construction game created by Mojang AB founder Markus "Notch" Persson. Gameplay involves players interacting with the game world by placing and breaking various types of blocks in a three-dimensional environment. In this environment, players can build creative structures, creations, and artwork on multiplayer servers and singleplayer worlds across multiple game modes.
File №1. Game version: 1.20.1. +21 options by Hacker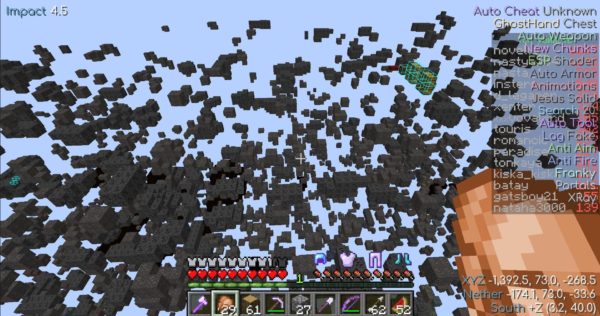 Functions:
• X-Ray
• Nuker
• Change Weather
• Scaffold
• Anti-AFK
• Auto Mine
• Auto Fishing
• Blind
• Freecam
• No Fall damage
• Aimbot
• Auto Clicker
• Auto Weapon
• Bow Aimbot
• Kill Aura
• Velocity
• Radar
• Player ESP
• Chest ESP
• Super Speed
• Super Jump
– Download
How to install:
1. Download the archive with the cheat, move the folder in the archive (for example 1.15-Impact_4.5) to \.minecraft\versions
2. In the launcher, find the version of the game, for example 1.15-Impact_4.5, run.
3. For 1.12.2 and 1.15.2 there are versions together with Optifine, first install the Optifine version that is listed on the archive.
---
Here you can find Minecraft Trainer 1.20.1 [Trails & Tales Update] for the latest game version. Currently we have free cheat called "Impact" version 4.5. This file includes a lot of different hacks.