Metro Exodus Enhanced Edition (2021) is a first-person shooter game with survival horror and stealth elements. Set in the post-apocalyptic wasteland of the former Russian Federation and Republic of Kazakhstan, the player must cope with the new hazards and engage in combat against mutated creatures as well as hostile humans.
File №1. Game version: 2.0.7.1. +10 options by FLiNG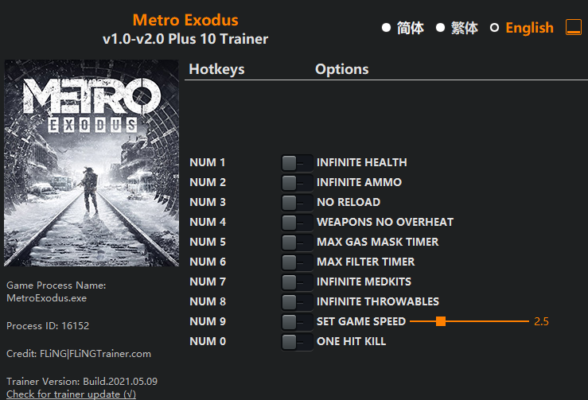 Functions:
Numpad 1 – Unlimited Health
Numpad 2 – Unlimited Ammo
Numpad 3 – No Reload
Numpad 4 – Weapons No Overheat
Numpad 5 – Maximum Gas Mask Timer
Numpad 6 – Maximum Filter Timer
Numpad 7 – Unlimited Medkits
Numpad 8 – Unlimited Throwables
Numpad 9 – Set Game Speed
Numpad 0 – One Hit Kill
– Download
---
Here you can find Metro Exodus Enhanced Edition Trainer for the latest game version (2.0.7.1). Currently we have free cheats from FLiNG.