Dying Light The Following (2016) is a first-person action survival game set in a post-apocalyptic open world overrun by flesh-hungry zombies. Roam a city devastated by a mysterious virus epidemic. Scavenge for supplies, craft weapons, and face hordes of the infected.
File №1. Game version: 1.49. +35 options by REPPiN/WeMod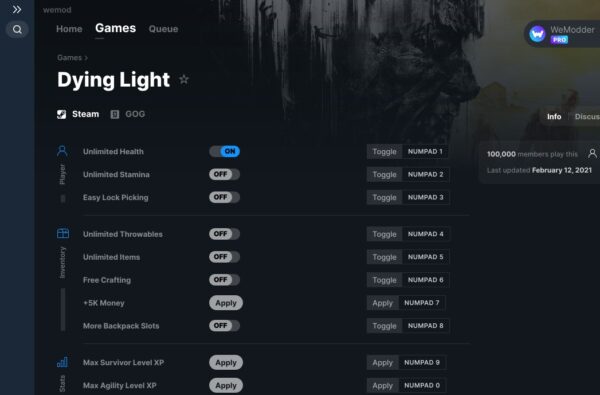 Functions:
[x] Infinite Health
[x] Infinite Stamina
[x] Easy Lock Picking
[x] Infinite Throwables
[x] Infinite Items
[x] Easy Crafting
[x] Add +5K Money
[x] More Backpack Slots
[x] Mega Survivor Level XP
[x] Mega Agility Level XP
[x] Mega Power Level XP
[x] Mega Driver Level XP
[x] Mega Legend Level XP
[x] Infinite Durability
[x] Infinite UV Flashlight
[x] Infinite Grappling Hook
[x] No Reload
[x] Get Ammo
[x] Get Arrows
[x] Get Crossbow Bolts
[x] Perfect Aim
[x] No Recoil
[x] Weapon Cloning (Zecman)
[x] Infinite Repairing
[x] Infinite Fuel
[x] One-Hit Kills
[x] Zombie Carnage
[x] Switch to Day
[x] Switch to Night
[x] Freeze Timers
[x] Weapons/Looting in Safe Zone
[x] Jump Height
[x] Teleport To Waypoint
[x] Load Position
[x] Save Position
– Download
---
File №2. Game version: 1.49.6 (Fixed). +29 options by HoG
Functions:
Num 1 – Max Health
Num 2 – Max Stamina
Num 3 – Super Weapon Durability
Num 4 – Unlimited Medikit
Num 5 – Unlimited Cash
Num 6 – Unlimited Item
Num 7 – Unlimited Survior XP
Num 8 – Unlimited Agility XP
Num 9 – Unlimited Power XP
Num 0 – One Hit Kill
Num . – Save Loccation
Num + – Teleport
Num – – Undo
Ctrl+Num 1 – Unlimited Throwable
Ctrl+Num 2 – Unlimited Lockpick
Ctrl+Num 3 – Unlimited Lockpick Durability
Ctrl+Num 4 – Slowdown Enemies
Ctrl+Num 5 – Enemies Cannot Move
Ctrl+Num 6 – Undetectable By Special Zombies
Ctrl+Num 7 – Grappling Hook No Cooldown
Ctrl+Num 8 – Unlimited Battery
Ctrl+Num 9 – Unlimited Ammo
Ctrl+Num 0 – No Reload
Ctrl+Num + – Daytime + 1 Hour
Ctrl+Num – – Daytime – 1 Hour
Alt+Num 1 – Maximum Accuraccy
Alt+Num 2 – Freeze Challenge Timer
Alt+Num 3 – Infinite Legend XP
Page Up – Maximum Speed
Page Down – Mega Jump
Insert – Teleport To Waypoint
Home – Disable All
– Download
Here you can find Dying Light Trainer 1.49.5 (latest game version + Enhanced Edition + Hellraid). Currently we have free cheats from REPPiN and HoG.