Black Mesa (2020) is the fan-made reimagining of Valve Software's Half-Life. You are Gordon Freeman, a theoretical physicist at the Black Mesa Research Facility. When a routine experiment goes horribly wrong, you must fight your way through an interdimensional alien invasion, and a bloodthirsty military clean-up crew in order to save the science team… and the world!
File №1. Game version: 1.1 – 1.5.3. +4 options by MrAntiFun
Functions:
F1 – Infinite Health
F2 – Infinite Armor
F3 – Infinite Ammo
F4 – No Reload
– Download
---
File №2. Game version: 1.0+. +4 options by iNvIcTUs oRCuS / HoG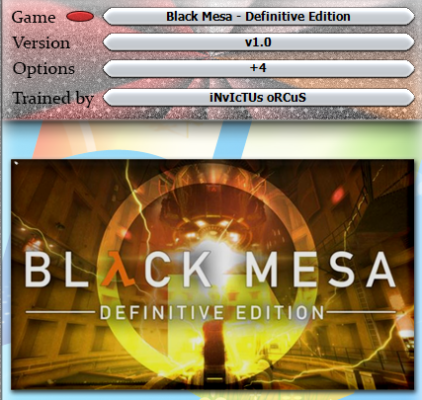 Features:
Numpad 0 – Maximum Health
Numpad 1 – Maximum Shields
Numpad 2 – Infinite Ammo and Throwables
Numpad 3 – No Reload
– Download
---
Here you can find Black Mesa Trainer for the latest game version (1.1 / 1.5.3 + Definitive Edition). Currently we have free cheats from MAF/WeMod and iNvIcTUsoRCuS/HoG.